COLLECTOR COMMENTS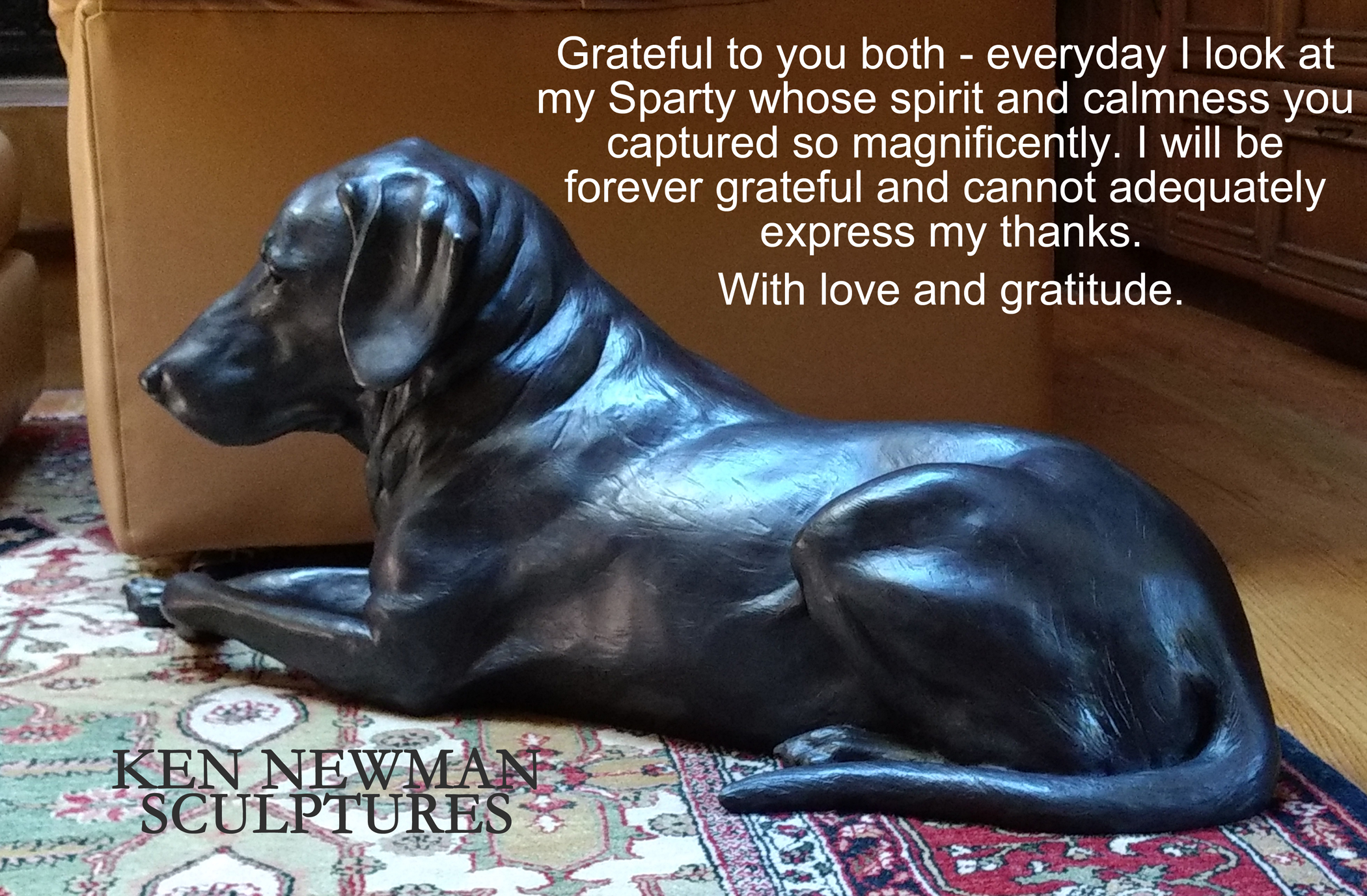 A Commission is a journey and changes lives.
You just don't know just how perfect "Focus" is me. Living a solitary life, I focus on the good that surrounds me.
Canada
We are thrilled beyond words to recieve "Focus" as a Christmas gift. It's hard for me to find the words(and I always have lots of words) to express the joy of receiving this piece of Art. We admire it many times daily and value it beyond cost. Having met you and Deb is moe than added value
Idaho
Found the perfect piece, "Unity" reminds us of the Ying and Yang in our relationship. Without our differences, life would be boring.
Seattle
On Native American Sculptures:
I've been thinking much more on the photos and your narrative of "Taking of a Soul". Upon reflection, "Soul" is all about what we discussed for over two years. I asked you to do something that invokes Natives and their association with nature, wildlife, and the spiritual world they once lived in. I now fully appreciate that you went well beyond my request. You gave me exactly what I asked for and much more; you pushed the envelope. Never occurred to me you would give me wolves and other wildlife by using their skulls to achieve my vision! Brilliant.
Virginia
My son scolded me later after touching Pure Freedom. I am sorry if that was wrong, but I wanted to feel the horses muscles and remember my time riding horses while young. Our response: Diane that is the best complement, by touching the work you only enhance the connection and appreciation of a work of art. Next time, try not to drip your ice cream on it. :)
California

We are always careful not to buy to many works by one artist, but for some reason we keep finding sculptures of yours we love.
Scottsdale
I have shown Lineal Passage to friends and they have been very impressed by this glorious piece. They ask me about the birds: are they carved from a different wood and placed there or are they carved right from the natural wood? The question is prompted by how seamlessly they are placed.
I said I would check, but suspect they were added to the piece. Ken would have to be an alien from another universe to carve it from the raw wood.
Virginia
What a sense of humor you have. We love Opulence and Essential. We were drawn to the sculpture, and sharing your story just made it real.
California
Our first sculpture—Observing Grace is being moved daily to find the right place for this amazing sculpture. We love it.
California
Showed my friends your sculpture I purchased at the King Mountain Art Fair, they loved it, but even if they didn't, I would still love Unity.
California
Attendance Study" arrived yesterday and love it! One of the cool things about this small sculpture is the fact that there is no "front" or "back"--it's equally interesting from all 360 degrees.
Maryland
We just purchased one of Ken's works - Tale of Respect. Thrilled to have such a beautiful piece of art. Unsurpassed craftsmanship!
Longview TX
The bird arrived safe and sound, we love him, and He sits on our coffee table in our Texas beach home.
Corpus Christie TX
We're still thoroughly enjoying Forever Ready (we haven't caught him napping yet!) We hope you'll be out in Connecticut (or at least New England) sometime soon.
New Haven CT
Can't tell you how much we are enjoying Composed at our home. It is a wonder of beauty and grace. I'll never tire of it. Thanks so much for your talent and vision.
Coeur d'Alene ID
"Even with two and a half years of yoga, I've never gotten close to that position—she must have been a very limber model. We are looking forward to adding The Stretch to our collection."
Lafayette CA
"Ken translates brilliant observations into awe inspiring sculptural work in both wood and bronze. He floods you with emotion in each piece. Whether it is the graceful twirling of a beaver munching on leaves, a bird preening, or a man weary beyond his years, his work speaks to the soul. In order to fully appreciate each creation you must hear his story of inspiration and vision. It will make each sculpture come to life."
LinkedIn Recommendation Cummings GA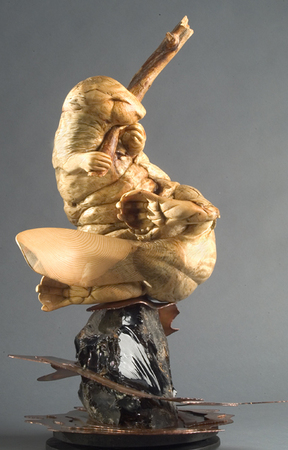 Dam Pirouette
Thanks, we just love Certain Destiny, The Redwood Salmon. We named her Sally!
Lummi Island WA
"I received American Pi – Sunday's Dress and I LOVE it. My husband loves it too."
Weston CT
"The Tale of Respect looks fabulous on the Grand piano. Many thanks!! I love it!"
Lancaster PA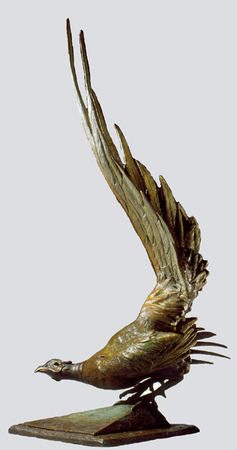 Tale of Respect
"I finally found you, lost your card and I found it two years later, I love my new sculpture - Well Worn".
Bellevue WA
"Thank you for sharing your art, it is so sensitive and original… and superb!"
Zephyr Cove NV
"I could feel your passion for your art as you explained your work to us."
Ellicott City MD
"I love the complicated postures, very creative and interesting pieces."
Gilbert AZ
"Where does one know how to do this?"
Easton MD
"Wonderful use of raw forms of wood."
Powell Butte OR
"Remarkable, Beautiful and Communicative"
ASID, Phoenix AZ
"Thanks for the eye candy."
Petaluma CA
"I appreciate you working with me to insure I could purchase Well Worn for my wife's birthday, I wrote a Haiku and read it to her, then I told her to turn around and she saw the sculpture. Thank you! "
Mill Valley CA
Mom always called us her little sparrows; your sculpture will always remind me of her.
Santa Rosa CA
We are so delighted to have so many Newman's in our home. Who will we will them to?
Oakton VA
I surprised her with the American Pi -Sunday's Dress last Tuesday and she was very pleased. Thanks for all your help in making this a great birthday gift. Now we're trying to find the right place for the sculpture."
Portland OR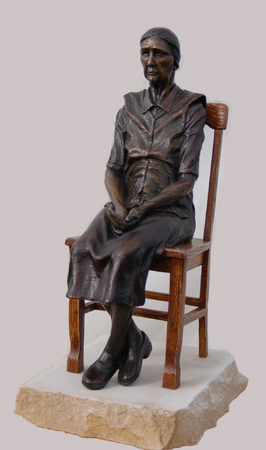 American Pi - Sunday's Dress
"We have admired your work for some time —your blend of remarkable technical proficiency and vision. This particular piece - Sunseekers sort of arrested our attention."
Brimingham AL
"RippledSpeed is beautiful. Once again I am amazed at your creativity and ability to create stunning beauty from a block of wood. Just admiring its beauty is one thing, but to learn the details of how you created it brings another and very important, layer of appreciation."
Brisbane CA
This is a very powerful and compelling piece! You have really expanded your range over the years. I can't wait to receive A Moment's Rest.
Oakton VA
Thank you for the lovely sculpture, my husband loved One After Another.
Concord NH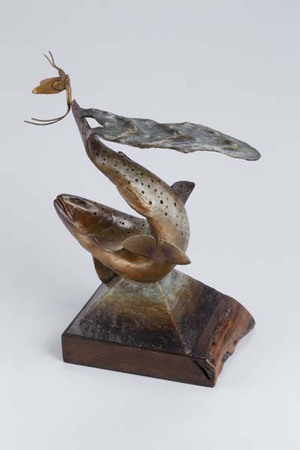 One After Another
I just ordered a new pedestal for a sculpture I purchased from you years ago. Thanks for your article on placing sculpture in your home, it made all the difference.
New York City NY
We immediately uncrated Forever Ready; it was even nicer than we remembered. For the moment it is on the dining table overlooking the lake, we plan to move it to our office conference room next week. Thank you for making this possible.
Clarks Summit PA
Thank you all for sharing your home or business through the placement of our sculptures and kind words as we continue the journey - these words make it rewarding and real.