UPCOMING ART FESTIVALS AND SHOWS
Visit us at any of the following venues, click on the Blue Links for more information!
Upcoming Art Festivals
Oklahoma CityFestival of the Arts
April 23-28
Bicentiennial Park, Oklahoma City
May 4-5
Sculptacular on evening of May 3
Downtown Little Rock Arkansas
Past Exhibitions
42nd Annual Birds in Art Exihibition
Mischief and Plunder (Three Magpies) at The Woodson Art Museum, Wausau WI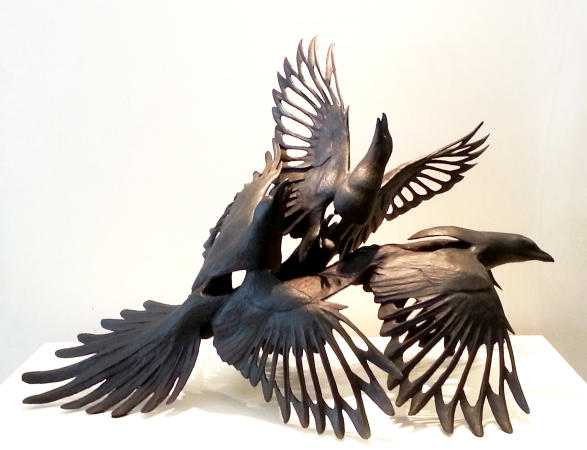 BIRDS IN ART TOUR SCHEDULE
The Chicago Academy of Sciences, Peggy Notebaert Nature Museum (December 16, 2017 ­– February 4, 2018)
Stamford Museum & Nature Center, Stamford, Connecticut (February 24 – May 28, 2018)
Cumming Nature Center, Rochester Museum & Science Center, Naples, New York (June 16 – August 13, 2018)
Newington-Cropsey Foundation, Hastings-on-Hudson, New York (September 4 – October 26, 2018)
Las Cruces Museum of Art, Las Cruces, New Mexico (November 20, 2018 – January 14, 2019).
Recent Shows and Exhibitions
2019
Southwest Art Festival, Indio CA
Litchfield Park Art Festival, AZ
Scottsdale Arts Festival, AZ
Indian Wells Arts Festival, AZ
2018
Palo Alto Festival of the Arts, Palo Alto CA
Art in the Park, Boise ID
Waterfowl Festival, Easton MD
BAM - Bellevue ArtsFair, Bellevue WA
Incline Village Fine Art Festival, NV
Ketchum Arts Festival, Sun Valley ID
ArtScape Dallas Arboretum, Dallas TX
Art & Soul in the Magic Valley, Twin Falls ID (Uncalculated Exposure)
Indian Wells Festival of the Arts, Indian Wells Tennis Gardens CA
Fountain Hills Art and Wine Affair, Fountain Hills AZ
2017
56th Society of Animal Artists Museum Tour, Museum of the Shenandoah Valley, VA
Tom Lucas Western Art Gallery, Dubois WY
Art on the Green, North Idaho College Coeurd A'lene ID
Jackson Art Fair, Jackson WY
Palo Alto Festival of the Arts, Palo Alto CA
Ketchum Art Festival, Sun Valley ID
San Dimas Festival of the Arts, Civic Center – San Dimas CA
Cottonwood Art Festival, Richardson TX
Barrington Art Festival, Barrington IL
56TH SOCIETY OF ANIMAL ARTISTS - ART AND THE ANIMAL
HOUSTON MUSEUM OF NATURAL HISTORY, Houston TX (The Rat Race)
THE HIRAM BLAUVELT ART MUSEUM, in Oradell NJ
STERNBERG MUSEUM OF NATURAL HISTORY - Fort Hays State University, Hays KS
One Man Sculpture Show - Ken Newman Sculptures, Ft Bragg CA - Town Hall
2016
Indian Wells Arts Festival, Tennis Garden in Indian Wells, CA
83rd Annual National Sculpture Society Exhibition (The Rat Race), Brookgreen Gardens, Pawley Island SC
Waterfowl Festival, Downtown Easton, Maryland
Animalia Exhibition, Loveland Art Museum, Loveland CO (The Rat Race)
Watertown South Dakota Art Walk May 2015-April 2016 (Taking Attendance)
TOAST Truckee Open Artist Studio Tour - Guest Artist, Engel & VolkersHistoric Downtown Truckee, California
Truckee Public Art Commission and Nevada County Arts Council, TOAST to Truckee's Creative Community
Truckee CA
Palo Alto Fine Art Festival, Palo Alto, California
2015
Ninth ART Idaho Biennial Exhibition, The Art Museum of Eastern Idaho (TAM), Idaho Falls, Idaho (The Rat Tace)
Performance in Art, NSS inconjuction in David A Straz Performance Center, Tampa FL (Observing Grace) 2013-2015
For the Love of Birds, Jennifer Bellinger's Gallery, Ketchum Idaho
Birds in Art, Leigh Yawkey Woodson Art Museum, Wausau WI (The Great and Powerful)
2014
Interpreting the Figure - Expressed in Sculpture, Jennifer Bellinger's Studio and Gallery, Ketchum ID
44th Annual Waterfowl Festival, Featured Artist with Confluence of Blue
Downtown Easton-Sculpture Pavilion, Maryland
The Wildlife Experience in Art, The Wildlife Experience Museum, Parker CO (One After Another)
SculptureWalk - Sioux Falls, SD (Taking Attendance) 2014-2015
2013
71st Annual Audubon Artists - Online NYC - 2013 (The Stretch)
Art & Soul of the City - 2013
(Award Winner)
"Turbulence on Horse Creek"
64th Annual Wind River Valley Art Guild Exhibition
(Sculpture Award Winner)
"Chaos and Symmetry"
National Sculpture Society Exhibition, Brookgreen Gardens SC - 2012
Taking Attendance
Other Recent Shows/Festivals
La Quinta Arts Festival, La Quinta CA
Scottsdale Arts Festival, Scottsdale AZ
Celebration of Fine Art, Scottsdale AZ
Art and Wine Festival in Fountain Hills AZ
Palo Alto Festival of the Arts, Palo Alto CA
Waterfowl Festival, Easton MD
King Mountain Art Fair, Woodside CA
Sculpture at the River Market, Little Rock AR
Marin Art Festival, San Rafael CA
Squaw Valley Art Festival CA
Ketchum Art Festival, Sun Valley ID
Jackson Art Festival, Jackson WY