Mischief and Plunder - Honored at Birds in Art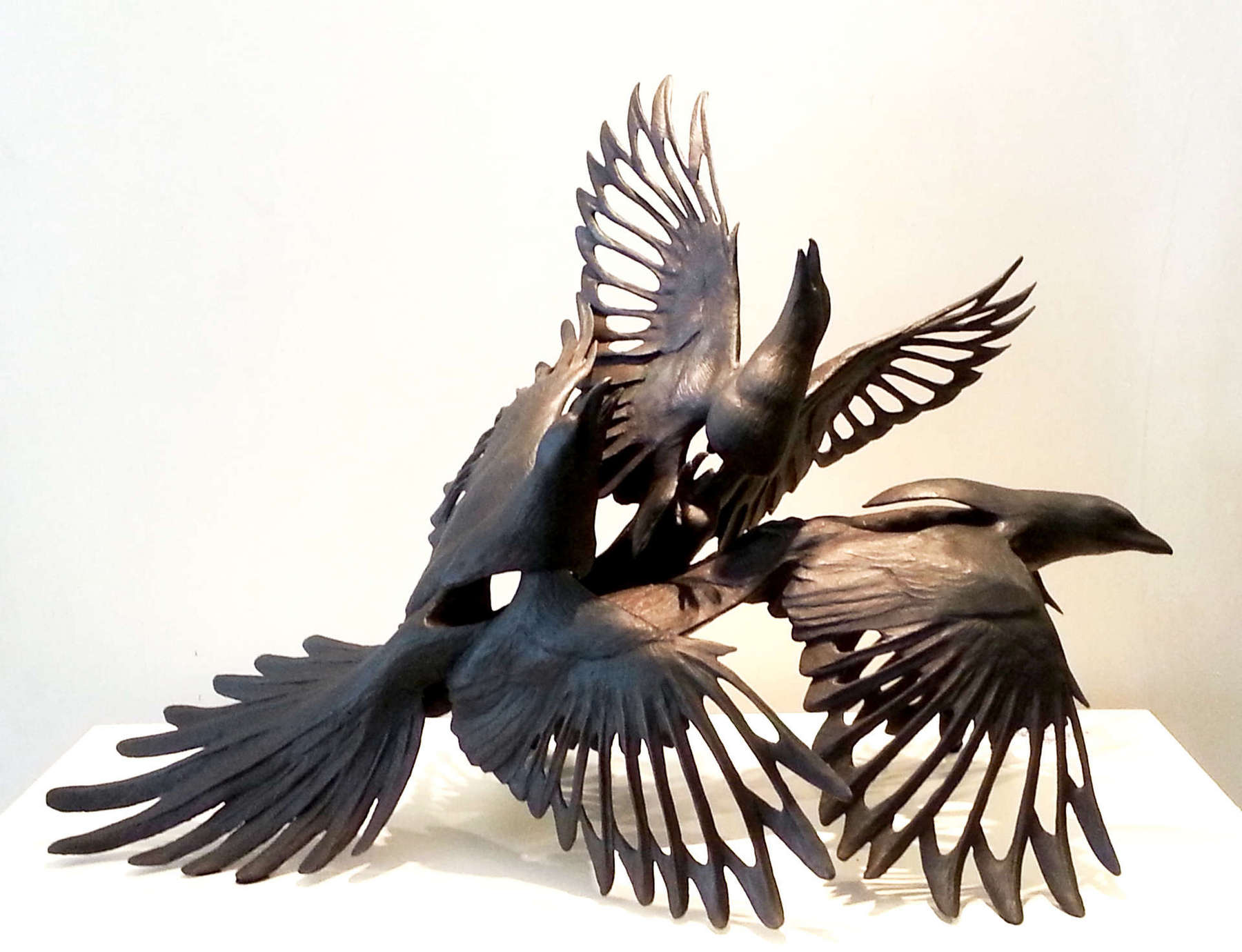 Mischief and Plunder has been selected for the 2017 Birds in Art Exhibition at the Leigh Yawkey Woodson Art Museum in Wausau, Wisconsin. This is the fifth time Ken's work has been selected for this prestigous international bird art exhibition.
It was also recently selected for the Birds in Art national tour. Only 59 of the 100+ works of art are chosen to tour the US. This year, the tour will be exhibited at The Chicago Academy of Sciences, Peggy Notebaert Nature Museum (December 16, 2017 ­ February 4, 2018); Stamford Museum & Nature Center, Stamford, Connecticut (February 24 May 28, 2018); Cumming Nature Center, Rochester Museum & Science Center, Naples, New York (June 16 August 13, 2018); Newington-Cropsey Foundation, Hastings-on-Hudson, New York (September 4 October 26, 2018); and Las Cruces Museum of Art, Las Cruces, New Mexico (November 20, 2018 January 14, 2019). If you are near any of these cities, we encourage you to attend the exceptional exhibition, the work is by the top bird artists in the world. The Leigh Yawkey Woodson Museum's exhibition in Wausau WI runs through November 26, 2017, admission is Free.
We attended the opening in early September, upon arrival home the Collections Committee was happy to inform us that Mischief and Plunder was chosen to be purchased in memory of their colleague and friend Joe Ruelle, who was the Museums facility manage for twenty years. This is the second time one of Ken's sculpture has been acquired by the museum, we are honored.
Artist Statement
Mischief and Plunder
For an artist a simple observation can open a door to that uniquely creative expression. Inspired by simply watching magpies on a snowfield. The concept should reflect the artists understanding of the subject, but more importantly a reflection of their journey.
My journey continues to explore animal attitudes using unique sculptural compositions. Mischief and Plunder depicts three magpie postures that express the possibilities of what may happen when multiple corvids become engaged. The sculpture title Mischief and Plunder was inspired by readings on the Native American culture. Another title was suggested by a friend and patron, which also resonated with me - Moe, Larry and Curly.
Mischief and Plunder is a bronze casting, edition of 11.
(c) 2017 Ken Newman Sculptures